New Survey Seeks Insight Into Health Impacts of PFOA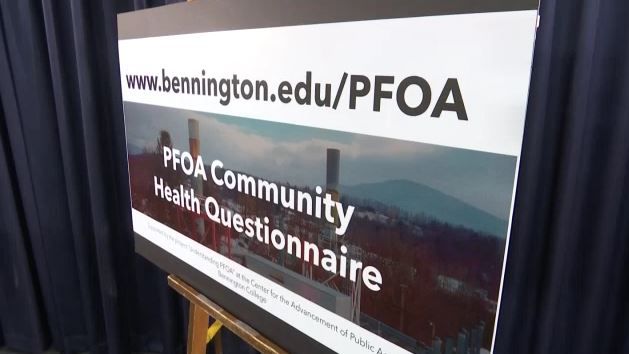 The New York Department of Health announced this week that it will be launching a national health effects study of communities impacted by chemical substances such as PFOA, including Hoosick Falls.
Five states have signed up to support the DOH's request to the Centers for Disease Control to launch the study, including Alaska, Michigan, New Hampshire, Pennsylvania and Vermont.
The Department of Health has also launched an online survey as part of a project called Understanding PFOA, which focuses on current or past residents of Hoosick Falls, Petersburgh, or Bennington.
This questionnaire is apart from previous studies as it will examine all illnesses linked to PFOA, not just cancers.
Questions asked in the survey, responses to which will be kept confidential, include where and when they lived in that particular area, their occupations, and any health conditions they have been diagnosed with.
"Are there trends, health trends in their communities, among the residents who consumed contaminated water?" stated environmental leader Judith Enck.
More than 1,700 residents in the Hoosick Falls and Petersburgh area have already completed the survey.
October 1st is the last day given to complete the health questionnaire.
The survey can be found online here. For those without access to a computer, a paper version of the questionnaire can be obtained by calling the DOH at 518-402-7950.
Read the full story here.
Categorized in:
Hoosick Falls Water Contamination
| Tags:
Department of Health
,
Faraci Lange
,
Hadley Matarazzo
,
Hoosick Falls
,
hoosick falls lawsuit
,
Hoosick Falls NY
,
Hoosick Falls Water Contamination
,
Hoosick Falls Water Contamination attorney
,
Hoosick Falls Water Contamination Lawsuit
,
Hoosick New York
,
Hoosick PFOA Water Contamination
,
Hoosick Water Contamination
,
Perfluorooctanoic acid
,
Petersburgh NY
,
PFOA
,
PFOA health effects
,
Stephen Schwarz
,
Toxic Chemical Exposure
,
Upstate NY water contamination
,
water contamination